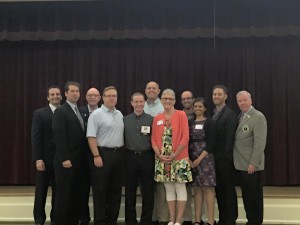 The North Carolina Society of the American College of Osteopathic Family Physicians (NCS ACOFP) is dedicated to the promotion and advancement of the standards of family practice in the field of osteopathic medicine.

Through visionary leadership, advocacy, and continuing medical education, members of the NCS ACOFP strive to provide the highest quality of care possible to North Carolina patients and their families.
Read more...
From the President
I am pleased to have the opportunity to serve NCS ACOFP as President this year. The NCS ACOFP is here to serve all of the D.O. population here in North Carolina especially family medicine physicians. We will bring together students, residents, practicing and retired osteopathic family physicians from all realms including typical clinic practice to academia. We strive to provide continuing medical education, present our opinions regarding hot political issues and represent our state in all matters on the national level. An exciting development this year has been the opening of the Campbell School of Osteopathic Medicine. With the help of CUSOM faculty including the Family Medicine Chair Charlotte Paolini D.O., we intend to be able to provide increased access to osteopathic CME programs. Please join myself and all of us on the board in continuing to expand our membership and representation here in North Carolina! Thank you, MARK SAKR, D.O.
NCS ACOFP is a state society seeking to grow as a resource for education, leadership and advocacy for D.O.'s in North Carolina.

We provide annual CME opportunities that are pertinent and cost effective, and represent our state at the annual national ACOFP convention. We are advocates for each other and a source of support for our colleagues.
Join now!