The North Carolina Society of the American College of Osteopathic Family Physicians (NCS ACOFP) is dedicated to the promotion and advancement of the standards of family practice in the field of osteopathic medicine.

Through visionary leadership, advocacy, and continuing medical education, members of the NCS ACOFP strive to provide the highest quality of care possible to North Carolina patients and their families.
Read more...
From the President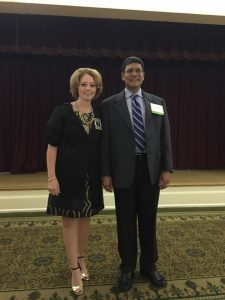 Pictured: Dr. Nicole Bixler, ACOFP Officer and President Ashton Molai.

Friends and Colleagues,

It's my distinct privilege to lead the NCS-ACOFP for the 2017-2018 year, as your President.

It's an exciting time for us as we strive towards the rapid growth and maturation of our Osteopathic profession in North Carolina.

As a group, we now have membership recognition and participation at many different levels, including on the NC Medical Board, national, state and local chapters, and in our own NC Campbell University School of Osteopathic Medicine. Our distinguished colleagues and members continue to assist us as we strive to promote the high standards of the Osteopathic Medical Philosophy.

Our recent Annual Meeting held at the beautiful Pinehurst Resort included quality CME sessions; on- site OMT skill refinement; sharing updated medical knowledge; and a chance to reunite with past friends and colleagues and meet new ones. Our annual Winter CME Conference, that is co-hosted with NCOMA and held at the Campbell University School of Osteopathic Medicine, will offer these resources as well. Mark your calendar for February 17, 2018 for that event.

We strive for excellence by advancing the visibility of holistic and comprehensive quality osteopathic medical care, to promote the standards of the ACOFP, and our other sister organizations via a shared vision and mission. Promoting our Medical leaders and Healers of tomorrow is paramount. Our resourceful academia and practicing physicians, experienced advocacy, visionary leadership, and an expanding membership base, are some of our strengths.

Please join me in welcoming your new Board of Directors as we work on initiatives to promote our goals and progressive agenda.

I look forward to working closely and collaboratively with every member of our Osteopathic Family. All are welcome!

Ashton Molai, D.O. President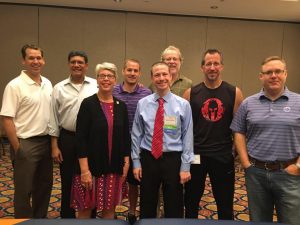 Pictured: 2017-2018 Board of Directors.

NCS ACOFP is a state society seeking to grow as a resource for education, leadership and advocacy for D.O.'s in North Carolina.

We provide annual CME opportunities that are pertinent and cost effective, and represent our state at the annual national ACOFP convention. We are advocates for each other and a source of support for our colleagues.
Join now!