The Association's 2018 Annual Meeting and CME Conference was held August 9th – August 12th at the beautiful Pinehurst Resort. We had the largest attendance ever since hosting this event.

Attendees heard top notch lecturers speak on relevant topics during the course of the weekend.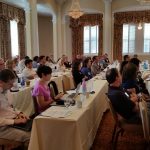 The conference included a Friday night social on the Porch and West Lawn that featured lawn games and food.
On Saturday evening, a reception was held at the Holly Inn during which outgoing President Dr. Ashton Molai, outgoing president   was recognized by Dr. Nicole Bixler.  Dr. Michael Murphy was installed as the new president along with the Board members.