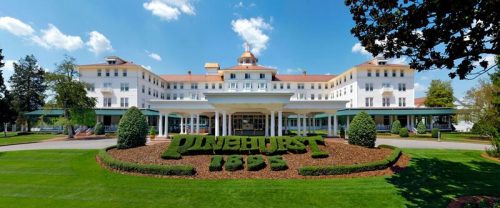 The 2023 conference will be held at the beautiful Pinehurst Resort.  The dates are Friday, 8/11 at 8:00 am until Sunday, 8/13 at 12:30 pm.  The event will offer up to 18 AOA Category 1-A Credits.  See the conference schedule for the confirmed speakers and topics:  2023 NCS-ACOFP Conference Schedule (May 15)

Attendee Registration 
Register by July 2nd to take advantage of the early bird registration rates.  There are two payment methods available.  To pay by credit card, complete the registration form on-line and enter credit card info here. 

If you need to pay by check, complete the 2023-NCS-ACOFP-Annual-Conference-Registration-Form (Revised May 8), print the form, and mail with your check made payable to NCS-ACOFP.  Mail to Nancy Guy, Director, PO Box 662, Lillington NC 27546.

Resort Guest Rooms and Other Housing Accommodations
The conference rate for  guest room accommodations at the resort are $154 per night which can include the Carolina Hotel, the Villas, Manor or Golf Lake View Condominiums.  Rooms are the Holly Inn are $169 per night.  You can make your reservation for the conference now using this on-line link: NCS-ACOFP Annual Meeting. If you have questions about the accommodations or wish to request a specific location, can call 1-855-923-7431.  Our group reservations coordinator is Kendra Bauer.

The following hotels are located within 5 miles of the resort: Comfort Inn Pinehurst, Spring Hill Suites by Marriott, Homewood Suites by Hilton, Hilton Garden Inn Southern Pines, and Hampton Inn and Suites.  There are also privately owned condos and houses on or near the Pinehurst property available through Airbnb or VRBO.

The conference registration fee includes breakfast all three days, lunch on Friday and Saturday, and a reception on Friday evening.

Social Events and Golf
There will be a reception on Friday evening for all attendees.

Golf outings are also an option.  Conference attendees receive a reduced price on golf.  More information about reserved golf times for the Cradle Course will be provided later.  Once you have reserved a room at the resort, you can call the Pro-Shop directly to request a tee time at the reduced rate.  The phone number is 910-235-8154.

Exhibitor and Sponsor Info
The number of exhibitor spaces for 2023 has been increased as well as the sponsorship opportunities.  The Exhibit Hall will be open from Friday at 1:00 pm until 3:30 on Saturday.  A link to pay on-line is available here.  Review the agreement here:   Exhibitor Agreement for 2023 NCS-ACOFP Conference.  

Need Additional Information about the Conference?

Contact Nancy Guy, Director at director@nc-acofp.org or by phone at 910-658-6501.