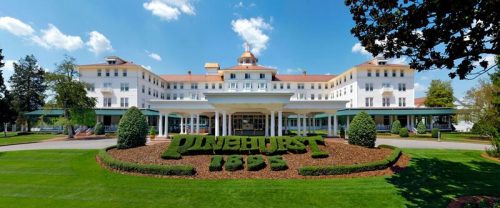 The 2022 conference will be held at the beautiful Pinehurst Resort.  The dates are Friday, 8/12 at 8:00 am until Sunday, 8/14 at 12:30 pm.  The event will offer up to 18 AOA Category 1-A Credits.  The conference theme is "Getting Back to Basics."  The lectures will include sessions on Hypertension, Diabetes Management, Chronic Kidney Disease, Colorectal Cancer Screening, OMT and more.  You can review the 2022 Conference Schedule here.
The American College of Osteopathic Family Physicians (ACOFP) is accredited by the American Osteopathic Association (AOA) to provide osteopathic continuing medical education for physicians.  The ACOFP designates this program for a maximum of 17 AOA Category 1-A CME credits and will report CME and specialty credits commensurate with the extent of the physician's participation in this activity.  An additional hour of CME credit can be earned by serving as a judge in the Research Poster Event on Saturday.
The conference also includes a Research Poster Competition and Exhibition hosted by the Campbell University School of Osteopathic Medicine and NCS-ACOFP.  It will be held on Saturday, August 13.  Details about how to enter are available here: NCS ACOFP Call for Abstracts Flyer 2022[Revised)
Attendee Registration 
Register by July 31st to take advantage of the early bird registration rates.  The on-line registration and credit card payment form is available here. 
If you need to pay by check, complete the 2022 NCS-ACOFP Annual Conference Registration Form and mail with your check made payable to NCS-ACOFP.  Mail to  Nancy Guy, Director, PO Box 662, Lillington NC 27546.
Student Attendance
This year a separate track has been developed for students on Saturday.  In addition, a reception for students is scheduled for Saturday evening.  The conference registration fee includes breakfast all three days, lunch on Friday and Saturday, and two evening receptions.  Students can apply for financial assistance up to $175 per person to assist with the cost of hotel/housing accommodations.  Applications must be received by June 24th.  To apply, complete this form.
Resort Guest Rooms and Other Housing Accommodations
As of June 30th, our conference room block at the resort is sold out.  If you wish to be put on a waiting list, or to inquire about rooms at the non-conference rate, you can call the resort reservations number for our group at 1-855-923-7431.  Our group reservations coordinator is Kendra Bauer.
The following hotels are located within 5 miles of the resort: Comfort Inn Pinehurst, Spring Hill Suites by Marriott, Homewood Suites by Hilton, Hilton Garden Inn Southern Pines, and Hampton Inn and Suites.  There are also privately owned condos and houses on or near the Pinehurst property available through Airbnb or VRBO.
The conference registration fee includes breakfast all three days, lunch on Friday and Saturday, and a reception on Friday evening.  An additional reception for students and residents is provided on Saturday evening.
Social Events and Golf
There will be a reception on Friday evening for all attendees.  There will a separate reception for students and residents on Saturday evening.  Both receptions will be sponsored by the Hugh Chatham Memorial Hospital.
Golf outings are also an option.  Conference attendees receive a reduced price on golf.  On Saturday evening, starting at 6:00, a limited number of slots have been reserved for conference attendees to pay the Cradle Course.  The cost is $50 per person which is paid at the time of play, or can be billed to your room if you are staying at the resort.  You can reserve your tee time here.  
Conference attendees can also receive a reduced rate for the other courses as well. Once you have reserved a room at the resort, you can call the Pro-Shop directly to request a tee time at the reduced rate.  The phone number is 910-235-8154.
Exhibitor and Sponsor Info
The Exhibit Hall will be open from Friday afternoon  – Saturday afternoon.  The exhibitor spots cost $300.  Numerous sponsorship levels are available.  The Exhibitor Agreement and information about  sponsorship levels can be found in the  Exhibitor Agreement for 2022 NCS-ACOFP Conference.  The on-line registration and payment link for exhibitors and sponsors can be accessed here.
Exhibitors and sponsors can request more information by contacting Nancy Guy, NCS-ACOFP Director at director@nc-acofp.org.